Diane Powell Larche'
President & CEO
Larche' Communications, Inc.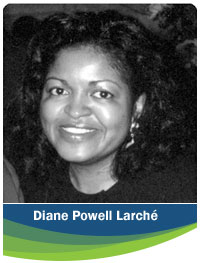 As President and CEO of Larche' Communications, Inc., Diane Powell-Larche' has extensive experience in Public Relations, Marketing, Advertising, Media Relations and Promotions.

An award-winning metro Atlanta-based publicist, her clientele includes Home Box Office (HBO); Dallas Mavericks Guard Jason Terry (formerly of the Atlanta Hawks); S.T.E.P.S. Events Planning Firm President & CEO Jamahl King; Divine Mill/ Warner Bros. Recording artist Jaheim; 2001 NAACP Image Award nominated actress Krysten Leigh Jones of the blockbuster movie Remember The Titans, Disney Channel's Even Stevens and of the new Bill Cosby animated Nickelodeon TV Series Fatherhood; syndicated columnist and economist Dr. Julianne Malveaux; MHR International, The Reynoldstown Revitalization Corporation and Ghana Expo 2004.

Larche' Communications is the event management firm for Real Men Cook for Charity Atlanta, a food tasting charity event held in 11 cities on Father's Day. Real Men Cook Atlanta was featured in Sister 2 Sister Magazine's October 2004 issue; Season Magazine Fall 2004 issue; the Food Network's Al Roker on the Road television show in July 2004 and in the June 2003 issue of Southern Living Magazine.

Diane earned a bachelors degree in English and Political Science at the University of Pittsburgh and a Certificate in Publishing at Howard University. She is a former Pittsburgh newspaper reporter and radio journalist and did public relations for the Pittsburgh Human Relations Commission. She continues to do freelance newspaper reporting in Atlanta in the area of sports and entertainment having covered the NBA All Star Game, Superbowl and regularly covering the Atlanta Hawks and Atlanta Falcons. She spent half of her 19 years with State Farm Insurance in management and has completed eight of nine parts toward her CPCU designation.

She is a founder and former board member of the National Association of Black Journalists Pittsburgh Chapter, member of the Atlanta Association of Black Journalists, Public Relations Society of America, Atlanta Sports Council, Metro Atlanta Chamber of Commerce, Atlanta Press Club, Junior League of Atlanta, Inc. and Atlanta Commission on Women. She serves on the board of directors of the League of Women Voters of Atlanta-Fulton County, National Association of Black Cardiologists Center For Women's Health and the Lupus Foundation of America, Georgia Chapter.

Diane is the 1998 Big Sister of the Year for Big Brothers Big Sisters of Metro Atlanta and was named the Georgia Woman of the Year by Quaker Oats and the National Council of Negro Women in 1998. She received recognition in August 2003 for Outstanding Service to the Entertainment Industry from Georgia Secretary of State Cathy Cox and was awarded the Legendary Female Entertainment Executive Award by Entertainment Atlanta-USA Magazine. She was a Woman of the Year finalist for the Atlanta Business League in 2001.

She is a member of Delta Sigma Theta Sorority, Inc. Atlanta Alumnae Chapter and Ben Hill United Methodist Church.
.
A native of Philadelphia, Pennsylvania, she is married to Joseph W. Larche', Jr., Assistant to the Georgia Commissioner of Labor.